We in EcomDimes are on a simple mission; help our readers earn extra money and improve their financial lives. Some of the links in this post may be from our partners. Here's how we make money.
Do you want to learn how to become more productive in your blog? This article is for you!
Being productive and delivering valuable content is what actually differentiates you from others. So, it's frustrating to spend hours writing just one blog post. If you're looking forward to learning how to write a blog post 3x faster, these are 11 strategic approaches you should learn.
11 Effective Tips On How To Write A Blog Post 3X Faster:
1. Have a plan.
2. Always start with a title
3. A good research
4. Write an outline
5. Create the hook
6. Following the Yerkes-Dodson law
7. Keep sentences and paragraphs short
8. Use images effectivaly
9. Internal & external linking
10. A great comprehensive conclusion.
11. Set a custom Pinterest image for the blog post
Chances are you've started your own blog or looking forward to starting a one, you'll get stuck in delivering promising content at some levels!
In case you don't know, there's a huge correlation between your content and your rankings on Google! If you're not delivering value, why would Google bother ranking you in the top results of a search?
So, ain't you publishing several great posts a week? Does it take you hours and hours just to write one blog post? Do you want to write a blog post faster? Then these 11 effective tips are for you!
If you find this post useful and inspiring, save THIS PIN to your Blogging Tips Board on Pinterest 🙂
For EcomDimes readers, you can now start your blog from as low as $2.75, equivalent to a cup of latte from Starbucks! (Claim your special offer)
Nowadays, gaining Google's attraction and evaluation is not that easy task! You can't succeed in blogging if you don't keep delivering high-quality and rich content!
You should be aiming for consistent efforts and writing. Therefore, it's frustrating to spend hours and hours writing only one blog post.
Long story short, these are 11 effective tips for speeding up your writing and delivering high-quality blog posts, let's dive in!
So, how to write a blog post 3X faster?
1. Have a plan
It doesn't matter how speed you are at typing, writing a blog post may take up to 3-4 hours.
The process of writing a blog post from the seed of idea to hitting "publish" takes a good portion of your time.
So, having a strong solid plan is always a great idea.
This is the brainstorming phase where you find your topic, ideas, and everything that needs to be covered in your blog post.
Don't be in a rush, and stop worrying that you'll forget those points you want to make. Write down everything you're planning to cover, set bullet points and just don't keep everything in your head.
So, unless you have a clear plan for your upcoming blog post, don't sit and write.
2. Always start with a title
In fact, titles have the power to make or break you article!
Here's my advise for you: Unless you have the exact title, don't write!
You should be aiming to create a curiosity and let people take action and click on your title.
So how do you write a catchy and unique title?
These are the steps that you need to follow when writing a new blog post's title:
A.) Include a some rationales in your title.
And here are some rationales that you can use and include in your titles:
Secrets
Things
Tips
Lessons
Ideas
Ways
Strategies
Hacks
Ideas for blog titles?
5 Most Popular Blogging Niches And Top 5 Best Blogs
B.) Grab people's attention
You should be aiming to grab the readers' attention with your title, and this is unfortunately not an easy task while people's attention spans have been decreasing every single year.
Remember, the more your readers are engaged with your content, the more they're likely to share it on their feeds with their friends because great content starts with a catchy and unique title!
As a business owner, in order to acquire more customers and clients, you should provide great sharable content.
A headline plays a good role in giving you the momentum you need, and then your content's quality determines whether they will continue reading and engage with it or not.
Unless you're looking forward to wasting your time and efforts, you should give people a reason to click and share your article.
According to CoSchedule, 89% of blog posts have less than 100 sahres.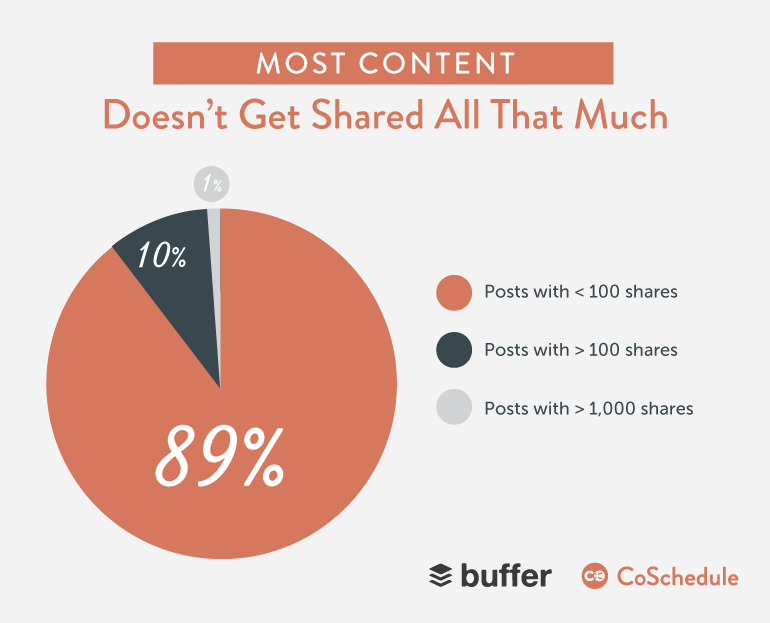 So, to avoid wasting your time and content, let it be something unique and catchy!
C.) Use what's called brain candy
NUMBERS!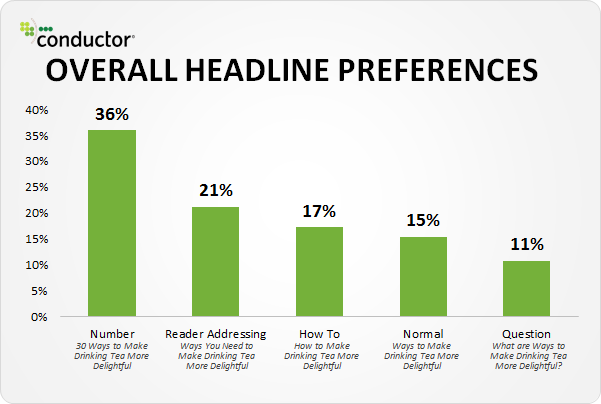 Image source: The Conductor
You should be utilizing numbers in your titles picking strategy because according to Debra Jason, the human brain is more receptive to numbers than words.
Some tips for using numbers:
Focus on odd numbers
Try to use small numbers because its more digestible than large ones.
Why didn't the authors use even numbers in the above blog posts? There's definitely a reason and science behind this!
What if you know that using an odd number can increase your click-through rates by 20%, is this enough reason to start implementing this strategy in your blog's post titles?
D.) Make your titles unique.
Isn't it great to use a title that no other blogger is using? This is what I mean by unique, and this is what you can do to check if your title is unique or not!
This is something that not many people realize. You simply enclose your title in double quotation marks " ".
What if I write the title on Google without the quotations?
Google usually tries to show up the most relevant searches for your query. So, choosing double quotation marks will only show the exact match of top searches in Google.
Impressive huh? Did you know this information before? Let me know in the comments, I'm curious to know!
3. Do your research
As simple as that!
With the right research, it's easier to stand out from the crowd, compete and succeed!
Writing a blog post is not all about just writing, and in my modest opinion, the research phase can save you tons of time and help you better position yourself in the competition.
A smart idea is to seperate research from writing.
When you're starting out in blogging, your webpage's and domain authority are for sure very low. So, it will be impossible to rank for keywords with a high competition score.
Therefore, great research includes competition analysis, to better understand the competition in a particular term. This will give you an idea about the difficulty or possibility of ranking your content.
The cool part about research and competition analysis is that you can leverage your competitor's efforts and research.
The best two tools that you can use is Ahrefs and Ubersuggest.
If you cannot afford Ahrefs, you can absolutely use Ubersuggest, and this is a quick tutorial on how to use it:
Let's assume you're in the health and fitness niche, and you want to write about the healthy recipes term.
As you can see, this term has a high search volume and a relativelay high SEO difficulty.
After that, you would go and seek keywords ideas with lower SD score.
As you can see, after hitting the keyword ideas button, you will land on a similar page
As I've previously said, you would need to find keywords with a lower SD to get better chances in ranking for those keyphrases and keywords.
I would recommend you start with 5-7 SEO difficulty, and as your blog grows and gains more authority, you can increase the competition.
After setting your filter, new results and keywords suggestions will pop up on your screen.
4000+ keywords with a low competition! This is a real treasure!
After picking the desired keywords, on the right section you can see who's actually ranking for those keywords in the top 10 results.
Unfortunately, the process is easier at Ahrefs, but don't worry, you can still do it for free using this domain authority checker. You'd need to check the results one by one.
You'd need to analyze each result of the first page as appears on Ubersuggest, and here are some things you need to look for:
At least an article with 1,000 words or less.
1-2 week domain authority websites (less than 25 prefered)
Forum result or social media (Pinterest, quora, etc…)
You should aim to roughly study all of the results in the first page, and try to provide valuable content better than all of them, and taking into consideration the length of your article.
Providing a rich pillar post will give you an advantage over others, and always think about it like that, you want everyone who visits your page with a specific query, to leave your page with no more questions about that topic.
Building this type of rich and comprehensive content will give you a big chance to rank, especially if you've found the above rules in your search.
If a website with a weak domain or content is managed to rank on page 1, this is a big indicator that if you provide an extra great content, you can easily outrank them.
Another thing I may have forgotten to mention, which is obvious, you need to relatively shuffle in those keywords that you've picked inside your article to build a keyword-driven content.
The keywords should be used in a great meaning and solid sentences, you don't want to just throw them up, building a very ugly piece of content, because this will lead to a higher bounce rate and this is a bad signal for SEO.
Above all, the research phase will keep you open for learning, updating your information and keep you motivated because you'll need to actually read others' blogs.
4. Write an outline
It's good to break down your content into three main sections:
Introduction
Body
Conclusion
As we've discussed earlier, your top priority is the user's experience, so you don't want it to be an overwhelming experience.
Instead, you should aim to make your content smooth and easy to read.
For example, without having a well-formated and catchy intro, how would you hook the reader and build that curiousty?
Understanding people's behaviors and activities on a website would make it clear for you. We are all humans, so just put yourself in the shoes of the reader, always!
The use of headings and subheadings is truly beneficial for making your blog post easier to be skimmed, and it's a good activity for SEO (search engine optimization) as well.
Orginazing your content can have multiple forms:
Sections
Tips
Bullet points
Lists
Tables
Well, I don't know everything, but it's just a matter of logical sense. We all love things to be simple and simplified.
So basically, to wrap this point up, just before you start writing, create a template for the blog post, write down your headings and sub-headings along with all ideas that you're going to cover.
5. Create the hook
"Do you want to learn how to become more productive in your blogging journey? This article is for you!"
This was my hook for you, and you wouldn't have read so far if you didn't see that sentence describes you!
Remember that you have seconds to attract people's attention. So, if your first sentences couldn't do it, you'll have:
High bounce rate
Lower engagement and social shares
Bad user's experience
Negative signals for Google and SEO
Every person has his own style and tone. Find yours, differentiate your blog's voice, let your blog posts be conversational and you'll just do fine!
6. Following the Yerkes-Dodson law of arousal
There's nothing better than claiming all the benefits of being your own boss and set your own rules. However, this shouldn't prevent you from setting a deadline for each task that needs to be done.
To set a deadline is actually to incentifize your brain to get things done!
This is psychologically proven, it's simple and works! When you set a deadline, your brain creates urgency for getting things done, and you'll get stressed.
The stress levels determine your actions and motivation. When our stress levels are high, our brain and body are primed for action, and this is the Yerkes-Dodson law!
Yerkes-Dodson law of arousal states that a relationship between arousal and behavioral task performance exists, such that there is an optimal level of arousal for optimal performance. Over- or under-arousal reduces task performance.
The original source: (Springer Link)
Not enough stress to get you moving? SET A DEADLINE! 🙂
7. Keep sentences and paragraphs short
Your number 1 priority should be the user's experience on your site!
Always put yourself in the reader's shoes, and ask yourself: Is reading this piece of content relaxing and convenient?
You should create that hunger for reading your 2000-3000/words piece of content.
So, there are some rules to keep into consideration when writing your blog post:
Let it be conversational.
Friendly-pro. type of content.
Use easy words.
Set font size to 16 (recommended)
Finally, what would be easier for you, reading a paragraph of 20 lines or a paragraph of 2 or 3 lines?
I guess you're just like me, would go with choice number 2, and so do your readers!
Make your sentences clear and your paragraphs of 2 or 3 lines max, because this will make it easier for your readers to go through your content without getting lost or bored!
8. Use images effectivaly
Blogging is not just a plain text on a paper, it's a combination of text, images, videos and other media elements like charts, slides, etc…
They say an image is worth a thousand words!
And it's true! Because images are eye-catchy and will make your content look more visually appealing.
When choosing your images, you should be super picky and use very high-quality images only. And for sure, you have to pay attention to the copyrights issue.
With that being said, there are several image directories that you can get images for free.
However, at some point and level, as your blog keeps growing, you'll feel like you're out of images and ideas!
Therefore, it's a good idea to upgrade to a premium image directory like ShutterStock, assuming you cannot afford it when you're starting out your blogging journey.
9. Internal & external linking
In order to succeed in blogging, you have to master the game of the internet.
And that's can be achieved by linking to authoritative websites because you should actually be delivering real value.
Image Souce: SiteChecker
What is external linking?
External linking is the activity of adding URLs that redirect to a different domain than yours. That can be an authoritative blog post from Forbes, let's say, or for a trusted source of information.
External linking best practices:
If you're writing about a particular topic, an external link for related content from an authoritative website or blog would emphasize what you're trying to point to.
Well, some people do not add external links fearing that they will lose their readers.
If you're one of those people, I'd advise you to don't even bother thinking about it. Add authoritative backlinks, why? Because people are going to bounce anyway, this is what's the internet all about!
Here are some external linking SEO best practicies:
What is internal linking?
Internal linking is the activity of adding hyperlinks within the blog posts for different topics and webpages for the same domain.
If the destination page is on the same domain of the content, this is internal linking within the website.
Image Source: LifeStyleBlogs
Internal linking best practices:
You shouldn't just randomly shuffle in hyperlinks. Therefore, these are the best practicies for internal linking:
Use relevant links
Use follow links
Use a reasonable number of internal links
Bad internal linking practicies:
Linking to the homepage
Linking to the contact us page
This is a common mistake for many who are starting out in content marketing. Try to avoid linking to those top-level pages on a site and remember, your aim is to distribute page authority across the site!
Internal linking for seo:
From an SEO perpective, internal linking will:
Increase engagement
Aids in website navigation
Increase the on-page time
Reduce bounce rate
Distributes page authority and ranking power throughout the site
10. A great comprehensive conclusion.
According to Neil Patel, he and his team have seen that most people who visited their website always scroll down to the bottom to read the conclusion, and then they get back to read the content, assuming they liked the conclusion.
What is a conclusion
A conclusion is the last part of your blog post to wrap things up and give the moral of the story in short!
How to write conclusion paragraph
Some people stuck on how to write conclusion paragraph. However, it depends on everyone's voice and style in writing.
Don't focus much on how to write conclusion, instead, focus on bringing up a comprehensive paragraph that summarizes all of the content that was projected.
How to start the conclusion paragraph
Were you actually wondering how to write a good conclusion?
Well, the good news is that it doesn't really matter how to start your conclusion, everyone has his own style, but what really matters is to make it thorough and end it up with a question.
The reason behind this is that you need readers to engage with you and leave a comment.
By creating a conversation and leave it opened with a final question, you're more likely to achieve your goals and have a higher engagement rate.
Synonyms for in conclusion
Some people use final thoughts, wrapping up, at last, but here's my advice, don't get fancy, just make it clear & readable and call it "Conclusion".
11. Set a custom Pinterest image for the blog post
And this is my bonus tip for you, it's optional but highly recommended.
In case you're not utilizing Pinterest in your promotion tactic, you're missing out much!
You need to make it easier for people to share your content, and that can easily be achieved by a WordPress plugin called Grow.
Grow plugin has so many features that can benefit your blog. I talk about it more in this article (Open in a new tab)
I've written an article that covers this all and discusses 15 Pinterest tips on how to get more organic traffic for your blog (Open in a new tab)
If you're new to Pinterest, or if you're like me, who's tried so many different strategies yet nothing's working, I highly recommend this e-book. To my surprise, Making Pinterest Possible is jam-packed, with a lot of valuable information. Even for someone like me who has been using Pinterest for a while got valuable lessons out of it! (Open in a new tab)
How long should blog post be?
This is a repeatable question, which I believe that there's no magic number for. It simply depends!
Let's see what experts say about this! By the way, when it comes to blogging and building websites, Jim & Ricky (in my modest opinion) are the best in this industry!
Below is a video for them sharing the study they have recently done on blog post length:
Conclusion
Whether you've started your blog or considering starting one soon, you need to understand that blogging can replace your 9-5 job, but it's not a get-rich-quick scheme!
Building your site's authority is what you should be going after, and this is can be achieved by keep pushing valuable content to your blog.
So, it's really frastrauting to spend hours or even days on writing just one blog post!
This post was designed to educate you about how to be more productive with your blog, and write your blog posts 3X faster.
By sticking to these rules and tips, and providing rich content to your readers, I can guarantee that you'll see good results, and do better than most of your competitors.
In case you've not started your blog yet, for EcomDimes readers, you can start your blog from as low as $2.75, equivalent to a cup of latte from Starbucks! (Claim your special offer)
To succeed in blogging, you need to believe that it requires patience, efforts, and faith, and there are basically things you should be doing as a blogger and strategic steps that you need to follow in order to reach your desired goals.
Which do you think more important, the writing or the research phase?
You, our readers, are so precious to us! And in fact, you're the reason behind creating this awesome blog! For EcomDimes readers, we've grabbed you a $300 OFF voucher for America's most comfortable mattress. Sleep better and do more! 😊

Picked-Articles For You
Cheers,
Odeh Ahwal