We in EcomDimes are on a simple mission; help our readers earn extra money and improve their financial lives. Some of the links in this post may be from our partners. Here's how we make money.
In this golden age of content marketing, tons of blogs are being created every day. It's best to get as much information as possible before you start your blog. Luckily, top bloggers share their lessons to help you succeed in the blogging journey. These tips are crucial to everyone who's considering starting a blog.
If you find this post useful and inspiring, save THIS PIN to your Blogging Tips Board on Pinterest 🙂
When we speak about marketing, the more views that a blog gets, the more opportunities an organization has to make sales and money. Especially if the main focus of the site lines up well with the initiatives of marketing and target audience.
A blog can be termed as being successful if it fully locks into its target audience and highlights the topics aligning with the core focus of the blog.
Every person loves to read a quality blog. It is an excellent way of learning new things, something useful, or even for entertainment reasons. However, most of the bloggers want to be influential bloggers, because that position brings with it a lot of potential for making money.
If you would wish to create your blog, for whatever reason, it could prove to be one of the best decisions you have ever made.
Related: Are you interested in learning how you can start a blog in a matter of minutes? We've come by this sweet step-by-step article to help you start your blog today using HostGator! (Open in a new tab)
This is because it could offer you countless benefits, from the powerful fulfillment feeling from inspiring, educating, and helping others in building awareness, forming connections, and gaining influence that could land you an excellent job offer.
Blogging can open a lot of doors of opportunity for you and help you make a difference, not only personally and professionally, but also in the lives of your audience.
Related: How to monetize your blog? 25+ blogging streams of income (Open in a new tab)
The Following Are 40 Lessons To Learn From Top Bloggers And Most Popular Blogs
✔️ Lesson 1: Pick a powerful headline
Titles are the reason of your content being clicked! You should try to use catchy and relevant headlines, but you should never promise something with your headline that your article doesn't cover!
Besides using a relevant headline, you should consider these two rules for headline structure:
1. Use a strong call-to-action.
2. Start your headlines with something like: How to, why, ways, secrets, and tips.
Finally, picking the right headlines is a critical job when it comes to search engine optimization, so it would be great if you take this into consideration if you're looking forward to getting Google's trust and evaluation!
✔️ Lesson 2: Choose a strong CTA (Call-to-action)
Typically, a call-to-action is a marketing term used in advertising and selling, and it simply refers to any device designed to prompt an immediate response or encourage an immediate sale.
Have you ever stumbled by an ad on Facebook that has a call-to-action button Learn more or Buy now? Exactly, those are only two examples of call-to-actions.
This is a strategy you should be using, from your website content to your Social media posts or ads. With a click-to-action, you lead people to where you want them to go and incentivize their brains to simply do what your need is!
✔️ Lesson 3: Write a long-form content
Do you want to outrank your competitors on Google search engine and other search engines? Long-form content is the way to go!
Since that long-form content has proven to perform better on search engines, get more shares on social media, and hugely increase the on-page time, you should be investing more in long-form content and providing huge value to your readers.
According to one study, they've found that there's a correlation between content length and social shares, and the image below is for your reference: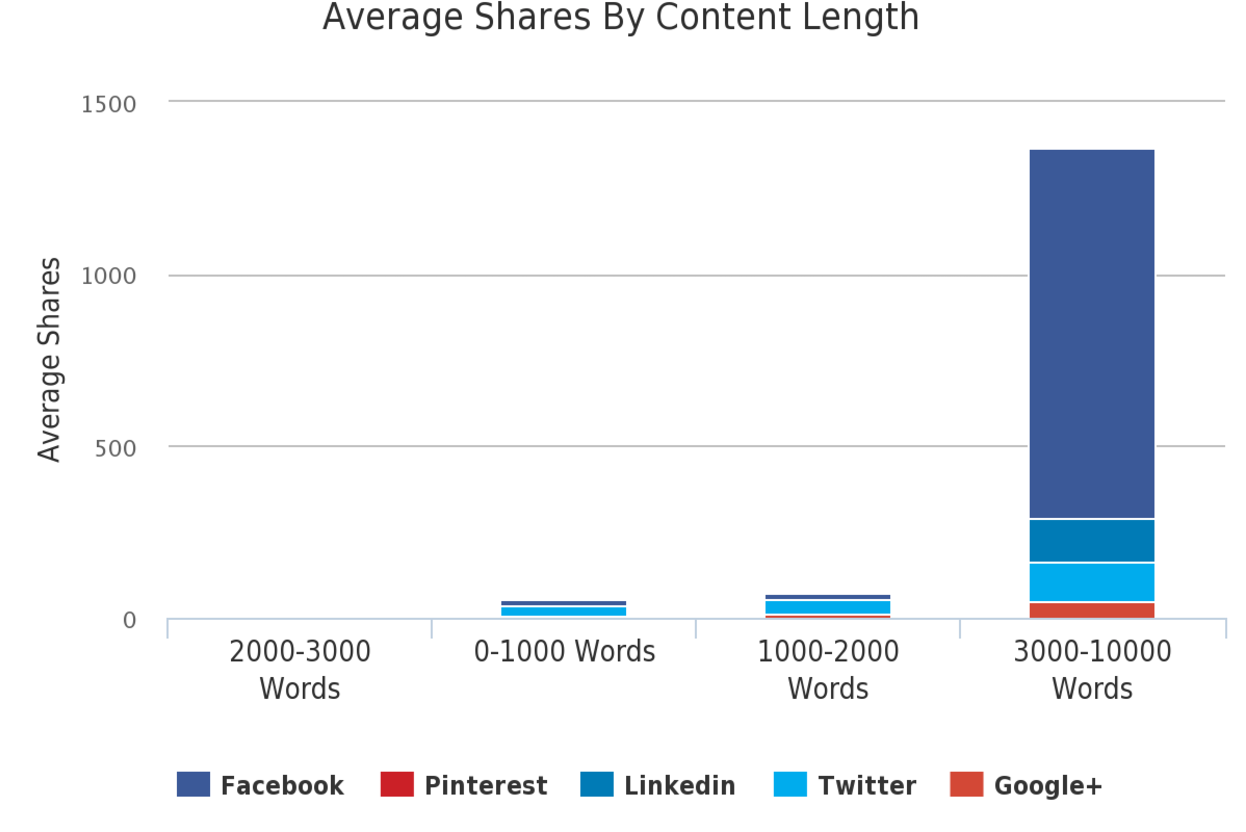 ✔️ Lesson 4: Have an inviting and clear website
Have you ever seen one of the professional and most well-known websites with another background than white?
Your site front should be clean in order to provide a good customer experience. Don't let it look messy, spammy with too many irrelevant images or ads.
I'm not saying to not use ads, ads are healthy for your finances, but try to create that reasonable balance that won't affect the reader's experience or distract them from reading your content.
You should have come across an article by Business Insider unless you're living under a rock. As you can see in the provided image, how clean the website is, white and black, easy to read, with suitable and readable fonts.
✔️ Lesson 5: Write content that works (Data-driven)
We all know that there are many types of content. There is content that is suitable for the short run, content that's good for the long run and content that doesn't work at all.
You should be focusing on the content that works and wins in the long term game.
When writing blog content, ask yourself this question: Will this content be relevant next month? In order to win the long run game, your content should be data-driven and really provides value for readers. Keep returning back and editing your content is a no-brainer.
Right content that will last for months or even years!
✔️ Lesson 6: User's experience first
I've said this before, and I would keep saying it: User's experience should be your number 1 priority when running a blog.
There are too many spots to look into, but you should always put yourself in your reader's shoes. By doing so, you would determine whether this content is helpful for them or not, whether they have a good experience in your site or not and what they are looking forward to getting answered next.
The first impression is not limited to body language or physical meetings only, but also online!
People will come and go, seeking answers to their questions. If they had stumble across your page and found a superior piece of content, touch your professionalism voice and received value, they are more likely to get curious to check other pages and surf your site.
On the other hand, if someone who's just visited your site, and got annoyed with how many pop-ups or ads he received on his screen, or simply of the site's not optimized for mobile, I guarantee you they won't ever return back to you.
They will recognize your name and just make sure not to click on your name again in order not to waste any time in their search process.
✔️ Lesson 7: Don't quit too early
If you've decided to start your blogging journey, be prepared to be in it for a while, because blogging is not an overnight success.
If you're not willing to put enough time and effort, how do you expect to last enough to reap the rewards of a successful blog?
It takes a while to get your content noticed and seen by people, so if you put in the needed effort and implement the right strategies, you're more likely to overcome all obstacles and start earning money from your blog!
✔️ Lesson 8: Write about something you're passionate about
Just write about something you love and passionate about, something you cannot get bored talking about, to keep producing awesome and killing content.
Ask yourself, what's the topic that you can't stop talking with your friends about? THAT'S IT!
Besides the information that you already know, being passionate about a particular topic is a true magnet for knowledge. You start seeking and searching to learn more about something you love, which is awesome because it makes you able to keep producing a really valuable content!
A lot of people nowadays are picking niche blogs just because they think that a specific niche will get them more money. However, if you're not passionate about the niche you are more likely to provide bad content that won't attract anyone.
My little advice here is to do something you like, rather than forcing yourself to do something you don't!
✔️ Lesson 9: Niche blog wins
In marketing, you'll have to segment your audience into groups. The more you narrow down your audience, the more targeted and engaged they become.
Knowing your exact audience is gold. That's why you don't need to go with a broad competitive blog.
A niche blog gives you the power to know who your exact audience is, better position yourself in the market and compete, and also you'd be more likely to engage with that group of people based on their behaviors and attitudes.
Briefly, a niche blog is your way to go if you're just starting out!
✔️ Lesson 10: Engage and communicate with your readers
If you're a blogger of considering starting this journey, prepare yourself to get opened for people.
What that means is that you need to focus on engaging with your readers, and not just this, but make this your number 1 priority.
Your readership is all that matters. Some may say: No Odeh, my one and only goal is monetization! My reply would be: Without the readership and actual humans reading your content, you won't ever be able to monetize your blog, no matter how awesome your content is!
You need to respond to every single comment or email and create a highly-engaged community because that leads to trust and trust leads to more sales and success!
✔️ Lesson 11: Learn as much as you can about SEO
Learning about SEO and Google's updates will never be a waste of time. Never miss an opportunity to learn about SEO and the best practices for your site.
The Yoast plugin will help you audit your website, and give you the basic recommendations that you need to improve in order to get better results on the search engines.
If you're looking to expand the online exposure of your blog or site, but not sure what to go with, we are more than happy to help you with your SEO campaign and help you build and grow your business for months, but years to come!
All that you've to do is to head at our Contact Us page, drop us a line, and we can send you a free audit of your site, along with the road-map, offer and responsibilities if you choose to work with us!
✔️ Lesson 12: Aim for long-term success
Aiming for long-term success means accepting not to earn a dime from your blog for months without complaining.
Think about it like a real business, where you need to invest some good money, and it will take a while to see a return on investment. No business in life will hit its break-even point in the first month!
By having this idea in mind, and implementing the strategies that experts share, you can outrank your competitors and gain search engines' evaluation. It just takes time, be patient!
✔️ Lesson 13: Quality over quantity rule
The point is not how often do you publish, but what do you actually publish! For sure, hitting that "publish" button is important for your consistency and growth, but you need to focus on the value you deliver rather than how often you publish!
✔️ Lesson 14: Let your content provide value
You should be providing content not to just gain Google's evaluation, but also the readers' because they are your biggest aspect of the business!
Don't expect to write a random blog post that doesn't provide real value or something new to your readers.
Take me as an example, when I wanted to write a blog post about blogging lessons, I did a quick search and have seen results like "15 blogging lessons", "10 things I wish I knew", "7 lessons from expert bloggers", etc., so I decided to beat all of those results with an article that discusses 40 lessons not just 7,10, or 15!
You supposed have got the point. Search for other competitors in your niche, see what they are doing, who is ranking in the top results of Google, and just try to beat that content with a bigger, more in-depth content.
✔️ Lesson 15: Go with WordPress
If you're looking forward to starting a profitable blog that you can replace your job with, you should be willing to invest a little money in this journey.
Your biggest investment would be is to have a self-hosting website on WordPress.
If you've not started your blog yet, but considering doing so, we've created an awesome step-by-step beginner-friendly guide, to teach you how to start your blog using HostGator hosting provider with 10 simple steps, and actually have your site up and running in a matter of minutes! (Open in a new tab)
✔️ Lesson 16: Pick the right theme
Not all themes are created equally.
Make sure to choose the right theme for your business, because changing the theme is a very time-consuming process that you don't wish to get into.
The majority of people who start their blogging journey don't have any coding experience, so they are advised to pick the right theme that requires less coding and messing with plugins.
Don't worry, we are here for you! We've come up with the most genuine and inviting themes, and here are the two resources you should be checking.
– Acabado
– Envato Market (Theme forest)
✔️ Lesson 17: Be picky with plugins
Too many plugins will definitely harm your site's performance and speed. When choosing your site's plugins, you should be really picky and only install the plugins you need most!
Here's a great tip from our one and only favorite blogger and marketer, Jim Harmer:
So, in my modest opinion, these are the set of essential plugins for your blog that you cannot afford not downloading:
ManageWP
Losing your website's data is a real nightmare. Why would you put your site at risk if you are able to back it up for as low as $2 a month? No-brainer!
That $2/month is the best money you'd spend as a blogger, Trust me!
ManageWP is not actually shortened to backup purposes.
They provide an awesome portal where you can update your plugins at once, manage your spam comments, monitor and download the backup files, check your site's up and downtime, get notified via email or SMS if your site is being attacked and always know how your site is performing.
Yoast
Yoast is a great SEO tool that has a free version as well. It will help you stay on the right track and show you your content and site's weaknesses and strengths points, what should you be focusing on and what exactly needs optimization, from Google algorithm's perspective.
Grow by Mediavine (Social Pug formerly)
Grow is a literally awesome toolkit that will help you gain those social media shares at ease! This tool has multiple features that you can't resist to have on your blog, it will really add a superb experience.
Here's a great tutorial from the cooool and pretty Anastasia (Digital Marketing Expert):
ShortPixel
Shortpixel is a great tool that will help you compress and optimize your site's images because the bigger your images are, the longer it takes to load, which will lead to a bad customer's experience and that would absolutely harm your rankings on Google and other search engines.
W3 Total Cache
Caching your website will help improve your SEO and user experience by increasing the site's performance and reducing the load times by leveraging content delivery network (CDN) integration and the latest best practices.
✔️ Lesson 18: Choose a reliable hosting provider
Hosting is the most critical piece of the puzzle when it comes to blogging! People usually go for the cheapest option, without paying any attention to the perceived value of the service, and its effect on the user's experience.
Based on our experience, we were able to grab the best offer for our readers, where you can start your own blog from as low as $2.75, but at the same time, the hosting is very reliable with extra-ordinary customer support service.
Claim your special offer now, because I don't know how long will it last…
✔️ Lesson 19: Have 30 rich content posts in the first 2 months
If you've written 30 rich-content articles in the first 2 months, you're on the safe side ONLY IF, you keep producing and publishing on a weekly basis.
From what I've learned, you should never write those posts and just sit back waiting for the magic to happen. I'd recommend to at least publish 3 articles a week.
You just don't want to push and throw any content, for sure.
Using this tool that's called Uber Suggest (by the awesome Neil Patel), makes you able to research keywords that are performing well, see their search volume, the competition level and who are actually ranking for them.
✔️ Lesson 20: Break it down with sub-headings, lists, and images
Would you personally enjoy reading a paragraph of 30 lines? This is even more and worse from mobile!
Don't make this mistake, and simplify the content as much as possible for your readers, because again, their experience is all that matters for building a strong business!
Always break your content with headlines, awesome catchy titles, headings, sub-headings, and images!
Images can help increase engagement and deliver a clearer idea of what you're trying to point to in your content, you just need to only use high-quality, well-optimized and relevant images.
✔️ Lesson 21: Optimize your images to be less than 100KB
As long as you're looking forward to getting on the first positions on Google (supposedly), you should care for your user's experience on your site.
Loading images in phases or stages on your site gives a very bad impression and bad experience for the user. Therefore, you should be compressing and optimizing your images to be less than 100KB!
ShortPixel is a must for every WordPress user. Learn more about it (Open in a new tab)
✔️ Lesson 22: Treat your blog as a business
Don't you know that there are a lot of people around the world are making a living from their blog at the moment?
If you'd like to succeed in blogging, you should be adopting the business owner mindset.
Your blog can be turned into a real money-machine, with multiple streams of income.
You could be making money from selling ads, or even private ads, you can also sell your own info product or online course, besides earning commissions for recommending products/services to your readers, and this is what's called affiliate marketing.
✔️ Lesson 23: Make Pinterest your friend
Pinterest is the most powerful social media channel for bloggers, that's why I and other bloggers for sure would highly recommend making Pinterest your friend.
Pinterest can drive you massive amounts of traffic, more than you can even imagine.
The good about Pinterest is that it's a search engine more than a social media platform. And in a matter of a month, I was able to get such results, and still growing
If you're looking forward to starting in Pinterest but not actually sure where to start, here's a great resource which I believe can take the lead and teach you everything that you may need to gain Pinterest's organic traffic and boost your site/blog!
This course is an eBook of 176 pages, full of explanations, case studies, resources, and education. The creator of the course is Anastasia of Anastasia Blogger, and she has wide experience in digital marketing.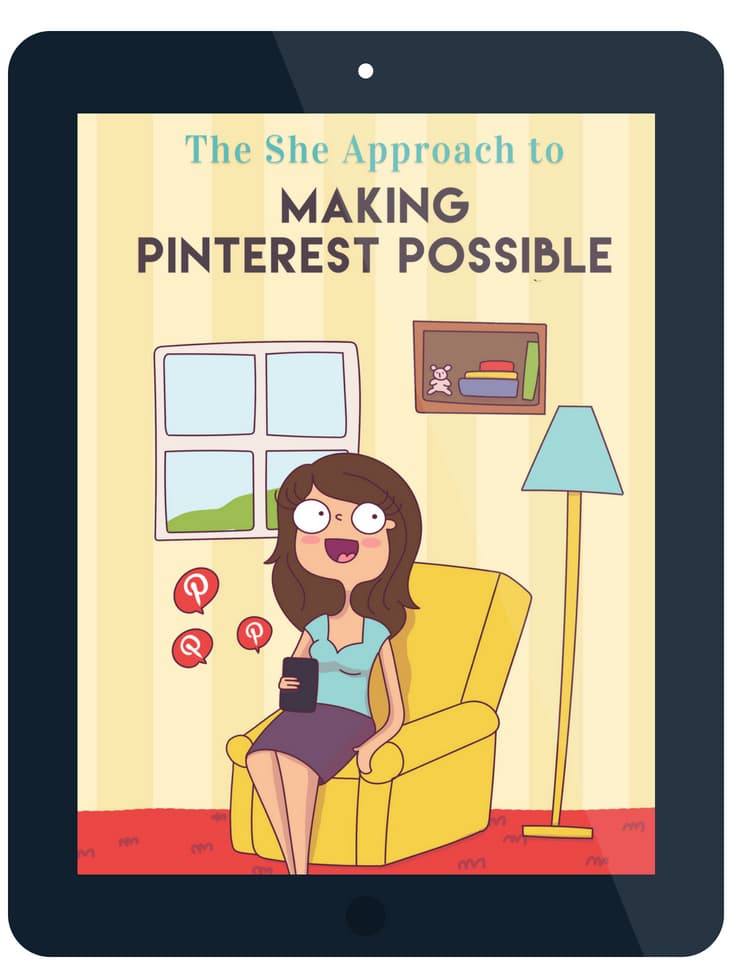 If you have any of the following questions, this eBook is for you:
❓ How do I get blog traffic and readers from Pinterest?
❓ How do you use Tailwind and Tailwind Tribes to automate and grow?
❓ How can I track my progress and interpret my Pinterest analytics?
❓ Do followers matter on Pinterest? How can I get more?
❓ How do I optimize my Pinterest account and boards for SEO?
❓ How do I create pin graphics that stand out?
❓ What are the benefits of manual pinning vs scheduling pins?
❓ What should I pin, how much and where?
❓ How do I create a kick-ass pinning schedule?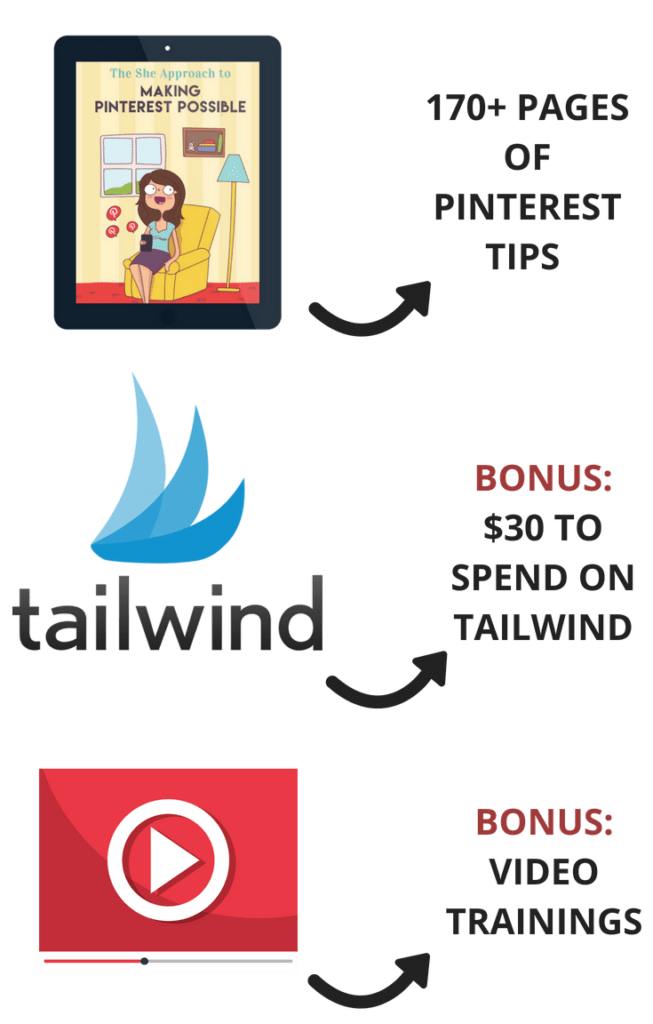 What you'll get:
A 170+ pages ebook with detailed strategies on how to get started with Pinterest, craft an advanced pinning schedule, and boost your blog traffic like a PRO.
Free Video Training: How To Find, Report, Take Down & Prevent Stolen Pins on Pinterest.
Free Video Training: How To Create Stunning Pinterest Graphics And Templates (For Free) In Canva.
Access to 17 case studies from bloggers and biz owners who mastered Pinterest (+ their best kept secrets).
A Tailwind voucher for new users ($30 value).
An invitation to my exclusive Tailwind Tribe.
Grab your Pinterest eBook copy to significantly grow your blog's traffic and online presence (Open in a new tab)
✔️ Lesson 24: SEO is the key to long-term success and traffic
You should, you should and you should be implementing on-site and off-site optimization. You can simply create content and leave it to rank by itself.
Imagine receiving 100,000 page views from Google per month, ORGANICALLY?
If you want to pay for ads to bring such amount of traffic, it will cost you a bunch of money. So, SEO is the key to long-term success and traffic, don't ever hesitate to implement such strategies for your site.
✔️ Lesson 25: The more you blog, the faster you write posts
Blogging and typing are just like anything in life, the more you practice the more you master it. You may struggle at your early beginnings, but you'll notice good progress in your typing speed once you've written some posts.
There are some online tools where you can test your typing speed for free, to keep an eye on your performance and improve it.
✔️ Lesson 26: Get benefits of the blogging related resources
As we keep advancing in this digital era, a lot of resources are rising to make our lives easier.
Are you doubting which hosting provider or autoresponder tool to use? What tools should you use for creating awesome images for social media? Where to get the best themes for your blog? How to find freelancers to help you with your blog?
All of your questions are covered under one roof. Check out our full tools and resources page for more info (Open in a new tab)
✔️ Lesson 27: Back up your site and content
Not backing up your site and content is an option that you cannot afford. It's really painful if it happens.
One of the primary reasons to back up your site is to ensure that your data will be safe. No matter what happens or crashes on the internet.
So, I'd simply recommend avoiding data loss because it's a real nightmare! You don't know what happens! The best service from my point of view is ManageWP, you can backup your full site's content for as low as $2/month, and this money is the best money you'd pay as a blogger!
✔️ Lesson 28: Learn your analytics and numbers
Connecting a Google Analytics account to your blog is a no-brainer! You should be knowing and monitoring your site's traffic, what pages that are getting the most views and where are your traffic primarily from.
People's behaviors and activities on your site could be good indicators of their interest. So you better understand these interests and know your numbers well to be able to optimize for the better!
There's also a great tool that's called Lucky Orange, it's a complete conversion rate optimization and customer feedback tool designed to help your website perform at its best.
With a quick installation, you eliminate the guesswork of optimizing your website for more sales. It allows you to watch recordings of real visitors to your website and see why they did not convert.

✔️ Lesson 29: Let your blog have a unique voice
This is probably the most thing that people struggle with. It's going to take you a lot of time to be able to reach that voice to your readers. Don't expect to master it from the first post, I completely understand.
But at some point, you should be having your own blog's voice, whenever people read your content, they hear your voice and way in your content. Just keep this in mind!
✔️ Lesson 30: Reply to every comment or msg
You should never neglect any single comment, msg or email from your readers. For sure, you should be filtering spammy comments, but on the other hand, you should appreciate people who are coming by to drop you a line or a supportive comment.
People who comment on your blog posts are a treasure. Don't waste any opportunity to appreciate them and thank them for your kind words, and remember, they are the reason why you're there for!
Doing so will help you build a strong name between your competitors and also a big trust!
Make it your daily 10-minutes routine, check your "Comments" section and mailbox!
✔️ Lesson 31: Set a monetization strategy and plan
This is where your blog gets profitable and where most bloggers struggle with. When it comes to monetizing your blog, there are actually over 20 ways to make money from your blog.
You need to set a solid monetization strategy, to have multiple streams of income from your blog.
But before starting to rank in cash, the first thing to do is starting your blog.
Tips: Are you looking forward to monetizing your blog and earn good money from it? Check out our related article (Open in a new tab)
✔️ Lesson 32: Choose quality images
The fact is that we process pictures about billion times quicker than text. So populating your blog posts with relevant images is a very smart idea.
You are not just asked to drop random images, it's only recommended to choose high quality for your posts, and remember images represent your topic and help deliver your idea much quicker.
The best marketplace for stock images is Shutterstock, it's worth checking (Open in a new tab)
✔️ Lesson 33: Relevant branding (Fonts, colors, and logo)
Creating a blog can help you build a strong brand, build more awareness about yourself, and sell your own product or course at ease!
Since you're building a brand, a brand is not just about a name. You should carefully choose your website's atmosphere, fonts, colors, and a unique logo that easily expresses your brand!
✔️ Lesson 34: Be willing to invest your money and time
This will ONLY work if you promise yourself to commit and invest your time and money. Would you?
If you commit for a consistent period of time, keep active and publish regularly, and take these tips into consideration, there's literally no reason not to succeed and start earning good money from your blog!
Put the needed efforts, time and investment to be able to reap the reward in a few months. Remember, someday, it will definitely pay off the long nights, no sleep and overthinking! Believe in the process!
✔️ Lesson 35: Keep returning and editing old posts
It's extremely helpful to ensure that your blog content is being updated on a consistent regular basis. Google loves fresh and unique content, so these are points you can easily claim.
There are over 600 million blogs today, with tons are being created on a daily basis. So you can't just throw content and leave it to rank by itself. I'd recommend you keep returning back to old posts, edit them and make it look fresh for Google!
✔️ Lesson 36: Use internal and external linking
Internal and external linking is something you definitely not going to miss, and I'll explain!
Having internal linking is required by Google nowadays, somehow. It will increase the on-page time, give users a better experience surfing different topics on your site and going from page to page.
This is an excellent activity for Google, and it will start to give you its evaluation and trust by time!
For external linking, you simply redirect people to a specific sales page, paid subscription or membership-based website, and when someone sees your content, clicks on those external links, and decided to make a purchase or become a paid member, you'll earn money at no additional cost to them.
This is what affiliate marketing is all about! It's a great source of income, so it would be healthy for your blog.
In sum, each piece of content should contain both, internal and external links.
Related: How To Master Affiliate Marketing As A Complete Beginner?
✔️ Lesson 37: Not all Social media channels are for you
While Pinterest works awesomely for bloggers, Facebook doesn't! You have to know exactly where your audience is active most, and simply have a presence right under their eyes.
You are not asked to focus on all social media channels. It's recommended to only pick a channel or two, and focus on them.
Ideally, Pinterest will bring you the results that no other social media platform can get!
✔️ Lesson 38: Forget about other blogs and bloggers
It can be really easy to be influenced by everyone else in your niche, and it's good to take some ideas for your blog, but at some level, that would prevent you from producing and moving forward, it's the human's brain!
Try to forget about other bloggers, and only focus on providing outstanding content with nothing in return, and by the time, you'll get rewarded for that from Google!
✔️ Lesson 39: Populate your blog with the needed pages
There are some pages that you have to be having on your site. Google nowadays pays attention to those kinds of pages in the header and footer that provide critical content for readers.
At the end of the day, Google keeps updating and optimizing to stay at the top as the top search engine in the world.
So they care for people's experience, and they won't simply award all websites and blogs, because not all of them deliver value.
In order to look professional, from the reader's and Google's perspectives, you should be having a contact us, about us, privacy policy pages, and if you're implementing the affiliate marketing method as a primary or even secondary stream of income, you should be having a straightforward and easy to reach disclosure.
Also, if you could add an address and working hours, that would be awesome for Google!
✔️ Lesson 40: Build your list
This is a topic which I can't get bored talking about for a week!
I've recently published an article about "why should you start building your mailing list" for your business, and the fact is that most people don't know the power of email marketing.
What's better than having a list of people that share the same interests in common, where you can reach out to them at any time you want and send them offers for what you sell or provide?
To learn more about building your email list, the resources that you should use and why should you start building your list at all, carefully check out this article (Open in a new tab)
Did you find this post helpful and inspiring? Save THIS PIN to your Blogging Tips Board on Pinterest, and let's spread knowledge 🙂
Conclusion
Blogging can be a very lucrative opportunity for making money online with low risk and multiple streams of income.
The internet is a remarkable place, an endless array of opportunities, and its never-ending growth assures its existence for the foreseeable future. Any content you upload on the internet is bound to outlive you.
It's safe to say that blogging is not dead in 2020 and is not going to die any time soon, because blogs are the heart of the internet.
People get online searching for particular information or answers to their questions, and bloggers write content to provide relevant information. Blogging is so much worth it in 2020 and my advice to you is to start now and learn as you go along.
All bloggers agree that you have to invest your time and money, but one day, those sleepless nights will pay off!
If you stick to these lessons and implement them in your blogging journey, there's actually no reason not to succeed in it!
How about making a $1,000, $2,000 or even $10,000 a month next year? You can do it and even go beyond this, you just need to start!
Exclusively for eComDimes readers, you can start your blog today for as low as $2.75! Equivalent to a cup of latte from Starbucks! Take advantage of this offer because I'm not sure how long will it last!
Thank you for choosing eComDimes your one-stop directory for making money online and offline. I hope you've found value in this post.
You, our readers, are so precious to us! And in fact, you're the reason behind creating this awesome blog! For EcomDimes readers, we've grabbed you a $300 OFF voucher for America's most comfortable mattress. Sleep better and do more! 😊

Hand-Picked Articles For You
Cheers,
Odeh Ahwal