Are you aware that you can use Pinterest to increase your blog's traffic? According to new research, Pinterest is driving more traffic to websites than Reddit, YouTube, LinkedIn, and Google Plus combined.
If you don't have enough time to read the full article, here are 15 useful tips on how to use Pinterest to drive more traffic to your blog:
| | |
| --- | --- |
| Tip 1: | Sign up for a free business account |
| Tip 2: | Use a headshot, not a logo |
| Tip 3: | Claim your website and accounts |
| Tip 4: | Categorize your profile |
| Tip 5: | Optimize your bio description |
| Tip 6: | Set up your account for rich pins |
| Tip 7: | Choose a good copy description |
| Tip 8: | Choose the right time to pin |
| Tip 9: | Ensure your images are pin-worthy |
| Tip 10: | Add text to your image |
| Tip 11: | Add a pin it button to your blog post |
| Tip 12: | Join group boards |
| Tip 13: | Engage with your followers |
| Tip 14: | Automate your pinning |
| Tip 15: | Add a cover image to your boards |
You have created your website, spent a lot of effort on research and writing amazing blog posts, and uploaded them on your website. Now what?
Next would be getting the maximum traffic possible to your website and content, and here's where Pinterest can come into play to help us achieve exactly that!
If you find this post useful and inspiring, save THIS PIN to your Blogging Tips Board on Pinterest!
In this article, I will be sharing with you 15 useful and actionable tips that you can implement right away to boost your website traffic through Pinterest.
Make sure to read this post all the way through and if you find it inspiring and useful, share it with your friends, please! (Virtual high fives and hugs to all my sharers out there!)
We at eComDimes are on a simple mission; help our readers provide well for their families by starting and growing online businesses. Some of the links in this post may be from our partners. Here's how we make money.
How To Use Pinterest To Drive More Traffic To Your Blog?
There are some people who think that Pinterest is a site for women for sharing their DIY projects and the latest recipes. That's absolutely not true!
If you are not getting a lot of readers and your blog traffic is not that impressive, maybe you should consider promoting it well on Pinterest.
After writing a blog post, you have to drive traffic to it if you want a good return on investment (ROI.) Pinterest is quickly becoming a platform where people head to read their choices of articles.
Here are some facts that prove Pinterest can drive extra traffic to your website:
Every pin can drive up to 6 page views and 2 page visits
The spreadability of a pin is 100x more than an average tweet
Every pin can generate 78 cents for eCommerce sites
A pin's life is one week, unlike 90 minutes for Facebook and 24 minutes for Twitter
No matter what your niche is, Pinterest can help you drive extra traffic to your blog, website, or any other business you are running.
However, there are some steps you need to follow in order to set up your Pinterest account the right way and ensure you get free organic traffic. These steps include:
1. Sign Up For a Free Pinterest Business Account
If you want to get an impression in your efforts of pinning, convert your account into a Pinterest business account.
If you do not have an existing account, you can sign up for one, it is free. After signing up, you will access Pinterest analytics that will give you information on the behavior of your pins after verifying your site with Pinterest.
2. Use a Headshot, Not a Logo
Successful bloggers humanize their brands with a photo of them. A photo of you would do the job because people like to follow other people, so it's a great way to connect with your followers. Visit our Pinterest profile for inspiration and ideas.
3. Claim Your Website And Other Accounts
When creating your profile, a big point Pinterest will reward you for is claiming your site. Also, you can claim and connect to any other social account you may have. This will stimulate your Pinterest SEO and authority simultaneously.
4. Categorize Your Profile
Don't forget to not make it hard for Pinterest to figure out what your account is all about! Pinterest will use your users' behavior to understand your profile niche, so you would help it much if you make it clear what your account and business are all about.
5. Optimize Your Bio Description
This was created to give you the opportunity to introduce yourself to people, and tell them what you offer right away!
Try to add relevant keywords in the form of clear structural sentences and avoid just throwing separated keywords with no connections.
6. Set Up Your Account For Rich Pins
Rich pins do offer pins extra value. Those types of pins have the ability to pull data from your website and tell Pinterest more about the context in which that pin can be helpful.
That helps Pinterest to distribute your pin in the right places to the right people.
I've already included a few helpful tips on how to set up your rich pins in the first chapter, but something that I haven't mentioned yet is the fact that there are 4 types of rich pins:
● Article-rich pins (perfect for bloggers and content creators)
● Product pins (perfect for store owners)
● Recipe pins (for food bloggers)
● App pins (for apps, probably not relevant to bloggers)
If you write any type of content online (blog posts, articles, etc), then having the article-rich pins enabled can be of tremendous help because, besides all the added information about the article and the author, they also come with one big fat call to action encouraging people to "Read It".
For a blogger, article pins are the most valuable because they will help in promoting your latest blog posts with bigger headlines, your logo, and a link that will lead to your site. Also, it is easy to set up with WordPress plugins such as Yoast SEO.
This is a recipe-rich pin example to better understand what I'm trying to point out here:
Pro Tip: Rich pins tend to show at the very top of an excerpt of your blog post if you've written one or otherwise they pull up the first few sentences from the blog post it's linked to. If you want to make the most of that space, make sure you write a custom excerpt (within your blogging
This is a tutorial by the pretty Sara Nguyen to teach you how to set up Pinterest-rich pins:
7. Choose a Good Copy Description
Every pin contains a description that informs the readers of what your pins are all about. For bloggers, a blog heading and a short description of the post are just adequate.
However, if you want to really maximize the potential of your pin, you need to go the extra mile. The following are the tips to make your pins great as per the data by Pinterest.
Also, adding relevant hashtags to your pins' descriptions would be a smart activity! Make a list of relevant and popular hashtags in your niche and keep that close. You'll need it every time you add a new pin or repin one of your own pins!
The following are the requirements for having a high-engaging pin:
Helpful: Your pin should be easily found by the readers and contain a spot-on description.
Detailed: Explain to the pinner what your pin is about, giving enough info to entice him or her to go to your blog.
Interesting: Use positive sentiments and sensory-related words for drawing the pinners' emotions.
Actionable: Provide a call-to-action button in your description as it can increase engagement by more than 80%.
Readable: Adding text to your image makes your pin increasingly descriptive. Make sure you market and promote your content, incorporating keywords that are SEO-friendly in your description. Include relevant hashtags in the description of your pin.
8. Choose The Right Time To Pin
Thousands of pins are being displayed on Pinterest on an hourly basis. Therefore, your goal in the strategy of Pinterest marketing is obtaining the most repins. However, how can you make your pins get noticed? You want to have as numerous people as possible repining your material for it to be frequented more by new users.
Finding the best time and day of pinning is the most successful strategy. You would naturally want to pin when the audience you are targeting is on Pinterest. You need to keep pinning consistently to reach more people, however, do not overdo it.
It's advised to contribute your pins not just through the week, but also through the day. You can't just through them all together at once, they simply get unnoticed and buried.
Tailwind, by the way, makes it easier for you to pin! It's Pinterest's #1 official scheduler, it helps you schedule pins and also pushes them to your ideal audience at the right time.
The toolkit's algorithm chooses the right timing for posting, which leads to higher presence, activity, and engagement! Check it out and claim your $15 voucher.
9. Ensure Your Images Are Pin-Worthy
The images on your pins are what makes Pinterest so addicting and alluring. Do not just use any images, ensure that the images you use are optimized to have maximum engagement.
Use the right-sized images, and note that Pinterest favors vertical ones as more users use mobile devices to view the feeds. The best ratio to use is 4:5 or 2:3.
Make sure that the image you use is amazing, it should have a contextual background, vibrant colors, do not include human faces, more lightness, and include red tones.
You can purchase pre-built templates, or you can create them by yourself using Canva. By the way, Canva is the tool that I use to create all of these awesome pins. Its free version is more than enough to get started and create stunning pins!
10. Add Text To Your Images
Your pin will draw more attention and increase traffic back to your blog if it contains some text. Not only does it appear to be more professional when created right it also makes the pinner know quickly and at a glance what your pin is about.
There are a lot of free image editing tools that you can use to easily add text to your images, and this cannot be any easier with Canva.
11. Add a Pin it Button to Your Blog Post
The pin it button makes it easier for blog visitors to pin your blog post easily. And this can be easily achieved through a WordPress plugin called Grow (Social Pug formerly).
Grow by Mediavine, is not just a plugin, and here's a great tutorial from the cool and pretty Anastasia (Digital Marketing Expert):
12. Join Group Boards
Pinterest group boards are amazing if you want to generate more traffic to your site. A popular group board is like a community board that allows other pinners to pin, increasing your exposure.
It is possible to quickly grow the number of your followers by joining a community board. Regular pins to a group board will help you to get noticed and people might develop an interest in your Pinterest board.
Why Join Group Boards?
Joining group boards is one of the simplest ways you can boost your Pinterest reach (even with a new account). Here is why group boards have the potential to increase your reach, help you grow your account, and get more traffic to your blog:
And simply, Pinterest loves activity! Group boards tend to have better activity than our regular boards because they have multiple contributors!
It's not just all about activity, but also good engagement! Most group boards have their own rules, which require you to publish fresh content and don't repeat any pins in a period of 30 days, for example, a maximum pin of 5 pins a day.
Those rules will determine the user's engagement, and this will create a platform of mutual sharing where you don't only benefit from the added exposure of adding your pins there, but you are seeing good engagement from other contributors as well.
Once you become a contributor to a group board, that board starts showing up on your profile. If a group board has 100+ contributors, that board is now showing up on 100+ Pinterest profiles, which means it has a way the bigger chance of getting discovered and followed by people.
When somebody follows you, they only automatically follow your own boards. Group boards have to be followed manually; which is why, most of the time, the followers of a board belong to the person who created it.
This is how you can recognize a board:
How to join a group board as a contributor?
Each and every board has an owner who sets his own rules! Basically, once you click the board, you will be taken inside, and they will be providing the needed info, whether they accept new contributors or not, how to apply, and how often to pin. Check the image below:
Once you see that the board's owner is open to new contributors, you can apply, and here's what you need to say to attract their attention:
Related: Are you overwhelmed and don't know where to start? Do you want an in-depth Pinterest course to teach you everything that's related to Pinterest from A-Z? Grab a copy of "Making Pinterest Possible digital course" PDF, and start implementing those strategies today!
13. Engage With Your Followers
Every good social marketer ensures that he or she engages with his or her followers. It is no different when it comes to converting your pinners into blog readers.
People will want to connect with you more if you keep engaging with them. There are various ways to engage on Pinterest, and they are as follows:
Pin relevant, original, and good content
Be consistent when it comes to pinning for your pins to be seen in the feeds of your followers
Follow your followers back
Find good content ideas from your followers' pins and boards
Repin, comment, and like on the pins of your followers
Repin the great content that your followers might like
14. Automate Your Pinning
Manually pinning every day can be too much for a blogger. However, you can choose to automate the strategy of your pinning and use Tailwind.
Tailwind uses various methods of automating your pinning strategy. You can use interval pinning, board lists, and smart loop functions to improve your pinning game. Better yet? It works for Instagram like a charm as well!
If you're wondering what Tailwind is, it's an online toolkit designed for making bloggers' lives easier! It helps you schedule all your pins and not just this, it will push them on Pinterest at the right time, where the activity and engagement are at their best!
You can check it out and see how it can help you boost your website's traffic, and if you decide that it's the right tool for you, here's a $15 voucher to help you get started without breaking the bank!
15. Add a Cover Image to Your Boards
Pinterest allows you to select one of the existing pins in a board as a cover image, therefore, instead of displaying the latest 4-5 pins, they show your chosen image, with just 2 of the most recent pins to the side.
Cover images actually organize your account and give it the unique atmosphere that you choose it to be.
To give you an example of how this looks in action, here is a comparison between 2 random Pinterest accounts: one that selected board covers for all their boards and one that didn't:
Boards without a cover image. Confusing, right?!
Boards with a cover image. Organized and clean!
Want to Master Pinterest?
Look, everything is doable in this crazy world! The human brain was meant and designed to achieve more than even what you've ever thought!
Learning from experts is truly important because they help you cut off the distance to success. You could, for sure, figure it out by yourself, but it will take you a long journey of trials and errors, and you can't forget about the ever-changing algorithm of Pinterest!
So, investing in a course that takes the part of educating you about everything related to this is a no-brainer.
Our job at eComDimes is to find you the best tools, opportunities, and resources to help you succeed in this journey, so I've found you the best Pinterest traffic eBook that has the highest perceived value and lowest investment that we could find!
If you have any of the following questions, this Pinterest e-book is for you:
How do I get blog traffic and readers from Pinterest?
How do I optimize my Pinterest account and boards for SEO?
How do I create pin graphics that stand out?
What should I pin, how much and where?
How do I create a kick-ass pinning schedule?
How do I find, join and participate in group boards?
What are the benefits of manual pinning vs scheduling pins?
How do you use Tailwind and Tailwind Tribes to automate and grow?
How can I track my progress and interpret my Pinterest analytics?
Do followers matter on Pinterest? How can I get more?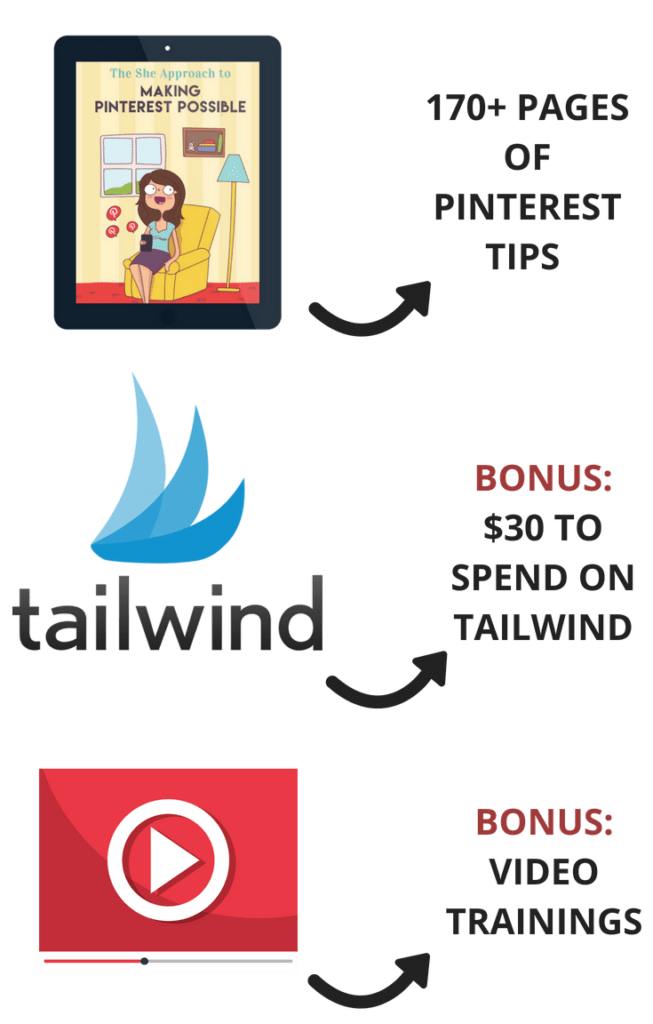 What you'll learn in this Pinterest course:
A 170+ pages ebook with detailed strategies on how to get started with Pinterest, craft an advanced pinning schedule, and boost your blog traffic like a PRO.
Access to 17 case studies from bloggers and biz owners who mastered Pinterest (+ their best-kept secrets).
Free Video Training: How To Create Stunning Pinterest Graphics And Templates (For Free) In Canva.
Free Video Training: How To Find, Report, Take Down & Prevent Stolen Pins on Pinterest.
A Tailwind voucher for new users ($30 value).
An invitation to Ana's exclusive Tailwind Tribe.
Grab your copy of the Making Pinterest Possible Online eBook.
Conclusion
Pinterest is a goldmine for bloggers! It's not just a social media platform, it's a search engine where people come in seeking answers to their questions and solutions for their problems.
You may have started your blog, or considering starting one soon, now you need to bring traffic to it in order to get profitable, and Pinterest can help you with that!
I believe that there should be an online presence for you in this decade, and blogging is proven to be a fruitful business that involves no risks!
Finally, if you want to get the maximum out of Pinterest and get free traffic to your blog, website, or any other business you may be running, you may need to consider learning from experts like Anastasia who are leveraging Pinterest to drive hundreds of thousands of pageviews in free organic traffic.
Cutting off the guessing and investing in a course is a great move for people who're looking forward to building a solid business. Being said, the below training by Anastasia is the mastermind for getting your blog noticed and exploding its traffic:
Finally, I'd like to say that the Tailwind app is 100% worth your consideration, time, and investment, and it's absolutely affordable for people who are looking forward to starting an income-generating blog or running a profitable online business.
Did you find this post useful and inspiring? Save THIS PIN to your Blogging Tips Board on Pinterest! Thanks for going this far and reading my article all the way through! If you found this post inspiring and useful, share it with your friends, please! (Virtual high fives and hugs to all my sharers out there!)
Cheers,
Odeh Ahwal
Hand-Picked Articles For You